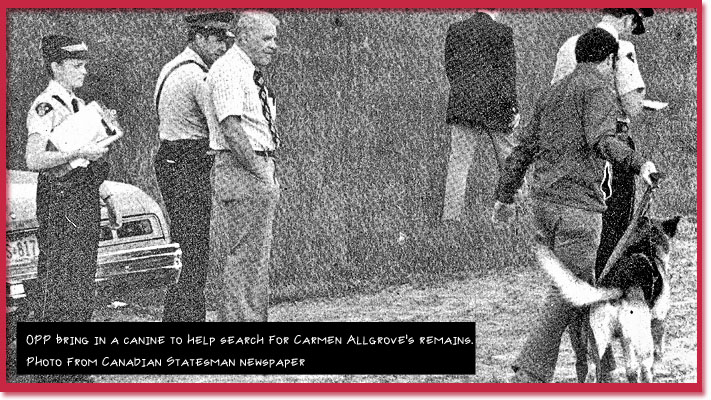 Carmen Noel Allgrove, 40, had left his hometown of London, Ontario and recently began living in Toronto, but had no fixed address. He was an alcoholic who had been kicked out of a home for men with drinking problems.
On August 29, 1976, Allgrove met Joseph Patrick Donoghue, 28, in a church park, hoping for sex. After they returned to Donoghue's King Street East apartment, they had been kissing, and got into an argument because Allgrove refused Donoghue's advances. Allgrove allegedly took Donoghue's hunting knife from the kitchen and threatened to stab him when his back was turned. They struggled, going from kitchen to bedroom, where Donoghue stabbed Allgrove 30, possibly as many as 50, times.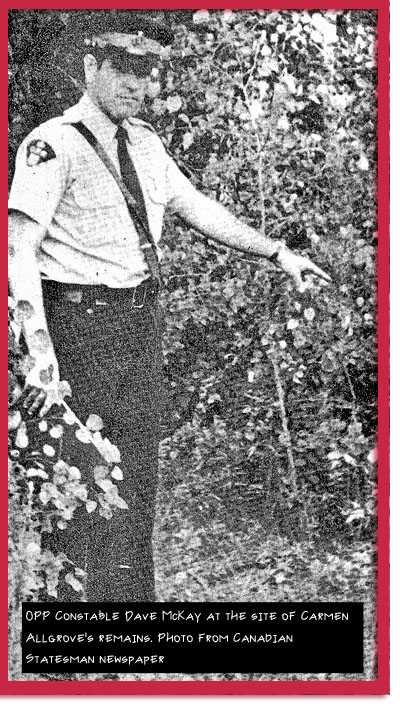 Allgrove collapsed and died in a pool of blood. Donoghue dragged Allgrove back to the kitchen, where he knelt in the blood and cut up Allgrove into quarters with a hacksaw and a knife.
The next day, Donoghue rented a car, put the pieces in three garbage bags, and left Allgrove's remains in a field off Highway 115. It was more than 80 km outside Toronto. A mushroom picker found the nude dismembered remains in two trash bags on September 4. A German shepherd owned by the Ontario Provincial Police, found the remaining bag nearby. Allgrove, who had a criminal history, was identified by his fingerprints.
During the trial, Donoghue said he and his victim were in a life and death struggle, and that it was Allgrove who attacked him with a hunting knife. "I thought if you stabbed a body it would be very hard, but I remember something very soft," Donoghue said in court.
Donoghue was described in court as having no remorse, only concern for his own legal situation. Justice Edson Haines described the attack as a "homosexual frenzy" and that the claim of self-defence was "probably concocted."
On June 29, 1977, 10 months after murdering Allgrove, Donoghue was found guilty of manslaughter. He was sentenced to seven years.
He appealed his conviction on the basis of how the trial judge instructed the jury, but on June 7, 1978, his conviction was upheld with a dissenting opinion. One justice said he through there should be a new trial, while two others said that if there were deficiencies, "no substantial wrong or miscarriage of justice resulted."
---
Murder Village Map
Vital Statistics

Name: Carmen Noel Allgrove
Age: 40
Gender: Male
Date of Death: August 29, 1976
Manner of Death: Stabbed
Location: King St East
Suspect Name: Joseph Patrick Donoghue
Conviction & Sentence: Manslaughter, seven years in prison