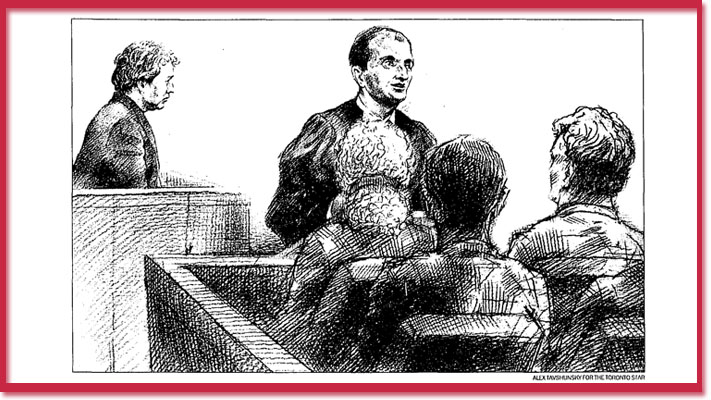 July 7, 1999 was seventy-two-year-old Hugh Sinclair's last day alive. Sinclair was murdered in his 42nd-storey apartment at 44 Charles Street West in the Manulife Centre. His murderer would be convicted before his body was found.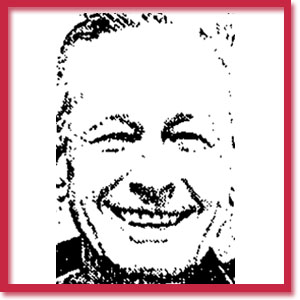 Sinclair was a retired Sun Life insurance company employee and an avid antiques collector. He met Timothy Culham, 29, five years previously and shared with him a love of art and antiques.
Sinclair was described as eccentric and an "antique hoarder." He was known for wearing a Panama hat with tank top and shorts regardless of the season, and for keeping a regimented daily routines. It was the break in these routines that caught people's attention.
Sinclair was a talkative man who was known to sit in a lawn chair beside a nearby parking kiosk and talk incessantly for hours with attendant Rod McEwan. After almost daily visits for five years, McEwan became so concerned with Sinclair's sudden absence, he convinced the Manulife Centre security guard to come with him to perform a safety check. On July 12, the guard and McEwan entered Sinclair's apartment but found nothing amiss. McEwan telephoned the apartment daily and filed a missing person report with police.
A few days after it is believed Sinclair died, neighbour Douglas Rutter, who had once worked in a cemetery as a youth, passed by the apartment that he thought smelled badly. "I told [partner Lawrence Schafer] it smells like something died; I recognized that smell," he said at trial. However, the smell eventually vanished.
Eleven days after Sinclair's death, Culham was spotted by the same neighbours moving out furniture. On July 18, he told Schafer and Rutter that he was Sinclair's nephew and that Sinclair had asked him to do a favour to move some items out, and paint the apartment. Culham had gained access to the apartment "by using a forged note."
Parking attendant McEwan continued to check for Sinclair and was eventually told by the building's front desk personnel that Sinclair was away on holiday for 10 days. The next time he called, McEwan was told the police were involved.
Fortunately for police, Culham did not paint the apartment. However, he was arrested under suspicion of theft after police discovered he had sold many of Sinclair's antiques to Toronto dealers. He was arrested as he slept on a park bench, and police found an electronic key to Sinclair's apartment in his pocket. Culham had tens of thousands of dollars in cheques from local antique dealers in his pockets.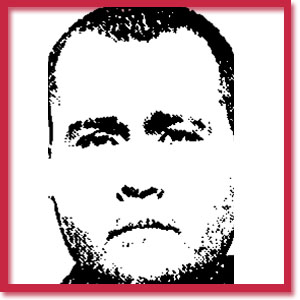 Sinclair's blood was found smeared on the stove, kitchen floor and inside the front closet. Police matched the blood to DNA taken from Sinclair's electric razor.
Culham rented a 1987 blue Chevrolet Cavalier five days after the murder and, police believed, transported Sinclair's body to an area outside Toronto. Culham was known to frequent Casino Rama, in Orillia, and it was one of the areas, along with Nottawa, that police would focus their search on. The Crown argued Culham had a gambling addiction, and had killed Sinclair to steal his antiques and sell them. Police estimated the value of recovered items was about $300,000.
When arrested, Culham denied knowing Sinclair.
Police did not find Sinclair's body, nor a murder weapon, before Culham's trial, but based on other evidence, charged Culham with first-degree murder. Police asked that hikers and hunters keep an eye out for the body, saying it was likely within 50 metres of a road, would likely be burned, and a gas can would probably be nearby. Eventually police found the gas can and hacksaw with an associate of Culham's whom he told he would not need the items anymore.
The defence suggested that Sinclair may have committed suicide, and questioned Dr. Erik Kotzer, Sinclair's physician, if he had concerns that Sinclair killed himself. Dr. Kotzer said he was treating Sinclair for a variety of ailments including a 30-year addiction to Vallium, but had not heard anything regarding suicidal thoughts. Culham did not speak during the trial.
On June 14, 2001, with just two days of deliberation, the jury found Culham guilty of first-degree murder. Culham was sentenced to life in prison with no chance of parole for 25 years.
Just before Christmas, 2002, some of Sinclair's remains were found near a highway by a land surveyor. His skull and other body parts were discovered in Utica, off Highway 12 between Toronto and Orillia. Dental records were used to confirm Sinclair's identity but due to the deterioration of the remains, forensic examiners were not able to determine a cause of death.
---
Murder Village Map
Vital Statistics

Name: Hugh Sinclair
Age: 72
Gender: Male
Date of Death: July 7, 1999
Manner of Death: unknown
Location: 44 Charles St. West
Suspect Name: Timothy Culham
Conviction & Sentence: First-degree murder, life in prison with eligibility for parole after 25 years