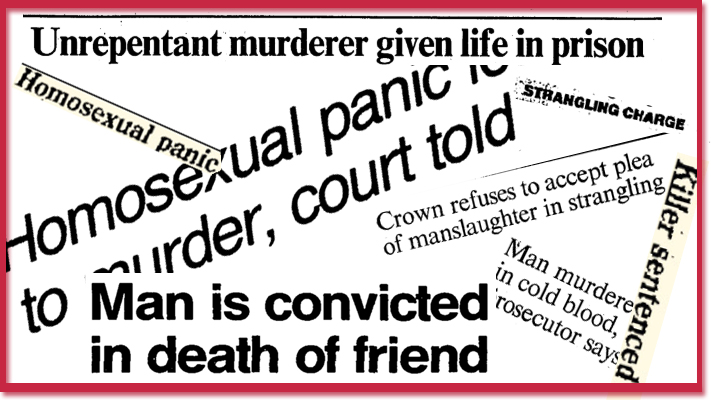 Paul Lopez Monte-de-Ramos, 38, was strangled to death and stabbed in the early morning hours of April 14, 1987, in a Sherbourne Street apartment. Previously, Monte-de-Ramos had lived with his killer.
James Douglas Brenn, 26, of no fixed address, was charged with first degree murder. Brenn pleaded guilty to manslaughter, but the Crown refused the plea bargain. Crown prosecutor Sarah Welch said Brenn had planned the murder, and that Monte-de-Ramos's death "was not a quick one." She estimated it took Brenn 15 minutes to strangle Monte-de-Ramos, who bled from the mouth and nose during the struggle.
After manually strangling Monte-de-Ramos, Brenn wrapped a towel around his neck, dragged him to a sink and stabbed him 29 times in the chest and abdomen. Brenn fled the scene with Monte-de-Ramos's credit cards and used them to make purchases.
Brenn confessed to his sister, and she called police about where they would find Monte-de-Ramos. Brenn told her Monte-de-Ramos was "a parasite who was living on borrowed time." She told police they would find a note on the door. Police located a note which read "Be back May 3/87, Paul." It had Brenn's fingerprints on it.
Brenn was arrested at the bus depot as he was attempting to flee to Montreal.
During the trial, Brenn blamed Monte-de-Ramos for coming on to him. He said he was in a "homosexual panic" which caused him to strangle and stab Monte-de-Ramos. Psychiatrist Dr. Robert Hill said he believed Brenn was a psychopath who reacted violently and impulsively, and who showed no remorse for his crime. He said Brenn could kill again because "that's what he wants to do."
Prosecutor Sarah Welch said Brenn felt a sense of satisfaction and perhaps even sexual arousal, killing Monte-de-Ramos. He was found guilty of second-degree murder.
On November 17, 1988, Brenn was sentenced to life in prison with no chance of parole for 14 years.
---
Murder Village Map
Vital Statistics

Name: Paul Lopez Monte-de-Ramos
Age: 38
Gender: Male
Date of Death: April 14, 1987
Manner of Death: Strangled and stabbed
Location: 251 Sherbourne Street
Suspect Name: James Douglas Brenn
Conviction & Sentence: Second-degree murder, life in prison with no chance of parole for 14 years