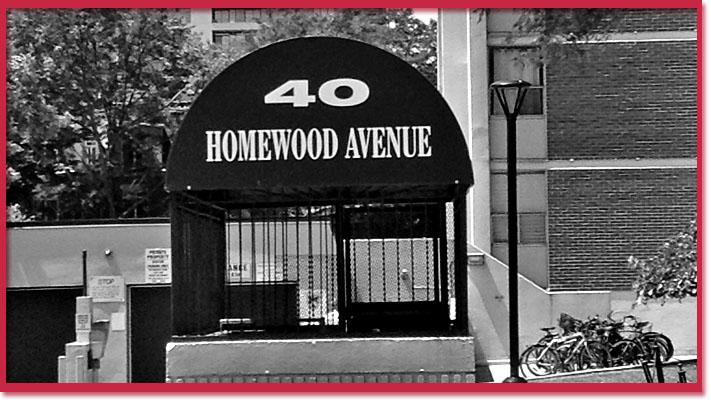 Revenue Canada tax auditor Michael Boley, 56, was found dead on April 14, 1990. He was tied, fully-clothed, spread-eagle on his bed in his Homewood Avenue condominium. Four days later, police arrested Rodney William Glode, 24, of no fixed address, in his murder.
Boley was a long-time resident of 40 Homewood Avenue, which has extremely tight security including cameras. His body was discovered by an elderly disabled woman whom Boyle had cared for, for many years.
Glode had gone on "a four-week rampage against homosexuals that culminated in the death of a victim", said reporter Thomas Claridge. Prosecutor Sandy Kingston described Glode as a dangerous person "who must be removed from society for a very long time." Glode had attacked six other gay men during his rampage, and all seven victims had been bound, gagged and robbed. Boley is the only one who died.
Glode's first victim, a bartender who invited him to go for drinks after hours, was attacked on March 18, 1990. He spent six weeks in hospital and was so badly head injured he has permanent balance problems. Glode's other victims, all gay men offering money for sex, were attacked between March 20 and April 12. In most cases, the victims agreed to have their hands tied, but not to being foot-bound or gagged.
While in jail, Glode bragged to an undercover police officer he "robbed a faggot and he died. It was my luck he had a bad heart," and that he was planning on returning to the building to steal more items.
An autopsy showed Boley had died of asphyxiation as a result of having a shirt, belt and tie used as a gag.
On May 16, 1991, Glode pleaded guilty to second-degree murder in Boley's death, and to three robberies in which each victim suffered serious and permanent injuries. Glode was sentenced to life in prison with no chance of parole for 17 years for Boley's murder, and a concurrent 10-year sentence for the robberies.
---
Murder Village Map
Vital Statistics

Name: Michael Boley
Age: 56
Gender: Male
Date of Death: April 14, 1990
Manner of Death: Asphyxiation
Location: 40 Homewood Ave
Suspect Name: Rodney William Glode
Conviction & Sentence: Second-degree murder with no chance of parole for 17 years