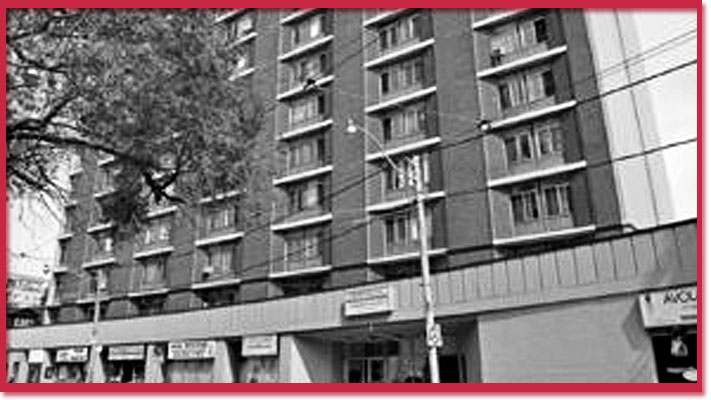 Fifty-four-year-old Gracie (James Edward) Detzler, described in news reports as a "would-be transsexual", was drowned in a bathtub at 280 Dundas Street East, on May 28, 1997, probably between 10pm and 10:30pm. Her killer, Steven Todd Craig, 26, contacted a lawyer who then advised police of the murder. On June 1, four days later, police found Detzler's body in a bathtub.
Detzler and Craig met while both people were serving long term penitentiary sentences. Detzler was described as a repeat offender when she was sentenced on November 28, 1990, for stabbing a man who refused to have sex with her.
Craig was originally charged with first-degree murder in Detzler's death, however, Justice Harry Keenan of the Ontario Court's General Division directed an acquittal on that charge, and the jury accepted Craig's plea of guilty to manslaughter. Justice Keenan had been advised that Craig had spent his entire adult life in prison or on parole. He had been out of prison just three weeks before murdering Detzler. Keenan declared Craig was "a danger to society," but reduced the charges. He was sentenced to 10 years.
The Justice did not allow the jury to hear a police statement that Craig admitted Detzler was handcuffed at the time of the attack. However, the jury did hear of Craig's previous violent attack, nearly fatal, on a male lover.
On December 23, at the end of Craig's trial, he shouted "You're next, you @%#$$# pig!" to Detective Sergeant Michael David, the arresting homicide officer. He continued yelling expletives at other officials and struggled with guards as he was escorted from the courtroom.
---
Murder Village Map
Vital Statistics

Name: Gracie (James Edward) Detzler
Age: 54
Gender: Female
Date of Death: May 28, 1997
Manner of Death: Drowned
Location: 280 Dundas Street East
Suspect Name: Steven Todd Craig
Conviction & Sentence: Manslaughter, 10 years